Reliability Seminar DVD – RCM Seminar in a convenient 2-Disc DVD format.
This DVD Seminar is authored and presented by Anthony M. (MAC) Smith, PE. Consulting Engineer.
Anthony M. Smith is a senior consultant to government and industry, and is involved in a wide variety of consulting projects in the energy, aerospace, and industrial sectors. He has more than 52 years of technical and management experience, including 24 years with General Electric. The author of more than 50 technical papers, Mr. Smith is an Associate Fellow of the American Institute of Aeronautics and Astronautics, and a past chair of its System Effectiveness and Safety Technical Committee. He is past General Chairman of the Annual Reliability and Maintainability Symposium, and is a registered Professional Engineer in California. He resides in San Jose, California.
Mac is the author of the internationally recognized book titled, "Reliability-Centered Maintenance
". More recently, Mac has published a new book "RCM–Gateway to World Class Maintenance"
.
Here's what's on the DVD:
Introduction

Part 1A – Common Maintenance Problems

Part 1B – Common Maintenance Problems

Part 2 – The Four Principles of Classical RCM

Part 3A – Selecting The System And Related Data

Part 3B – Using the Four RCM Principles

Part 3C – Comparison with Current PM Tasks, Task Packaging and Selected Results

Part 4 – Reliabilityweb.com Audio Interview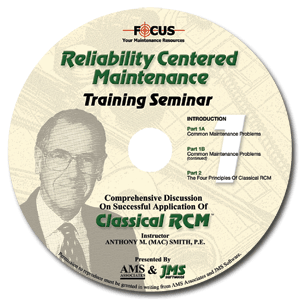 In stock for immediate delivery order today: